Fifa's ethics committee lacks independence and the game's governing body is controlling Africa for strategic reasons, claims former Confederation of African Football (Caf) president Ahmad following the end of his two-year ban from football.
The 63-year-old, who took charge of Caf in 2017, prior to his 2020 suspension for breaching various Fifa ethics codes, says he wants to help local football in his homeland Madagascar after returning to the sport in December.
Meanwhile, his former ally Gianni Infantino will be handed another four-year term since the Fifa president's control of world football is such that no rival candidate was prepared to contest Thursday's elections, the first on African soil, in Rwanda.
Ahmad believes his ban came after refusing to follow Infantino's desired aims, chief among them the February 2020 decision to cancel the assistance Fifa was then giving Caf at its headquarters in Egypt.
"My suspension was political," Ahmad told BBC Sport Africa while recalling a heated meeting between Caf and Fifa in Morocco.
After African football's ruling body chose not to extend its unprecedented deal with Fifa - with secretary general Fatma Samoura having served six months as the 'general delegate for Africa' in Cairo in a bid to improve governance - Infantino stormed out and headed straight to the airport.
"Fatma really helped but in six months we had what we wanted so did not extend the mission, but it angered the people of Fifa - Gianni was angry," said Ahmad.
"Upon leaving the meeting, some Fifa people were telling my colleagues that I had signed my death warrant. What is a death warrant in football? It is surely to use the ethics committee, the lethal weapon they were using at the time."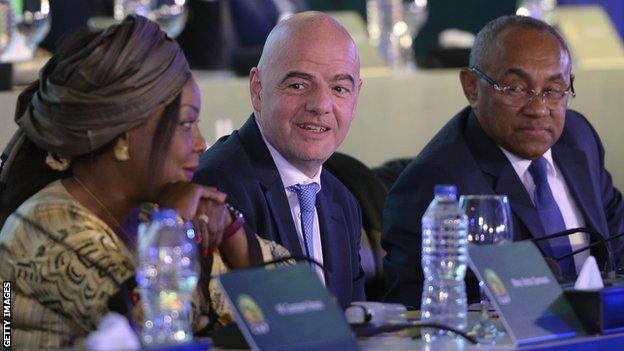 Fifa secretary general Fatma Samoura (left) spent time working with Caf and its former president Ahmad (right) to improve governance, with the appointment approved by Fifa president Gianni Infantino (centre)
A month after Africa rejected Fifa's offer, Ahmad was told an ethics investigation had been opened against him, as the Zurich body finally acted on information received from a whistle-blower (then Caf secretary general Amr Fahmy) one year earlier.
In November 2020, the ethics committee then served Ahmad with a five-year ban (and $200,000 fine) after ruling he had breached codes relating to duty of loyalty, offering and accepting gifts, abuse of position and misappropriation of funds.
Now far removed from football administration, Ahmad claims evidence of the political nature of his ban came when sport's highest legal body, the Court of Arbitration for Sport (Cas), reduced his sanction by over half in 2021.
"It proves that the errors I am accused of were subject to interpretation," he claimed.
In response, Fifa referred to the fact that Ahmad was found guilty by both its ethics committee and Cas, and provided the following statement in response to claims that Infantino had personally orchestrated any reference regarding Ahmad to the ethics committee.
"As per the Fifa code of ethics, the members of the ethics committee shall manage their investigations and proceedings and render their decisions entirely independently and impartially and shall avoid any third-party influence," a Fifa statement said.
"Gianni Infantino has presided over an organisation that, in seven years, has delivered a seven-fold increase in investment to every association in world football - that's not spin, but facts," added Fifa spokesperson Bryan Swanson.
"Generally speaking, attempts to discredit him are tiresome and fuelled by those that cannot accept Fifa is now efficient, well-governed and fit for purpose under his leadership."
'This blackmail by Fifa - it has to stop'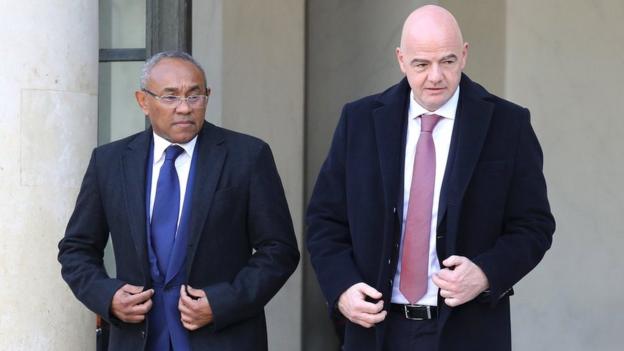 Ahmad (left) says he only ran for the Caf presidency after being 'convinced' to do so by Fifa president Gianni Infantino
Despite strictly outlawing third-party interference in the affairs of its member associations, the global body has been accused of "colonialism" in Africa by many, including former Fifa president Sepp Blatter.
Nonetheless, few serving or former African football officials have been prepared to speak out against Fifa's conduct, with many saying they fear repercussions if they do.
Two notable cases may have made them feel reluctant to do so - both of which surround the decision to install Samoura upon Caf.
Between the announcement of the Senegalese's unique role and her arrival, I sought the views of several African FA presidents, with many happy to talk off the record but only one brave enough to go on it.
Guinea-Bissau's FA president Manuel Nascimento duly told BBC World TV's Focus on Africa that the majority of his counterparts opposed Samoura's presence, saying Caf belonged to Africa and the deal would "not be accepted in any confederation in the world - so why should we?".
One year later, on the very eve of the Guinea-Bissau FA elections, Nascimento was handed a 10-year ban by Fifa who said he had participated in an 'incident of mob justice' in his homeland - even though local police had determined otherwise when investigating a case in which they found him innocent.
The source of the original complaint against Nascimento - which was filed midway through Samoura's tenure, in October 2019 - came from none other than then Caf secretary general Mouad Hajji.
Putting matters into perspective, Nascimento's ban was over three years longer than that handed out in 2019 to Patrice-Edouard Ngaissona, despite the Central African Republic FA president being indicted for war crimes - including murder, torture and the enlisting of children as soldiers - at the International Criminal Court.
In 2019, the ethics committee also banned another African FA president, with outspoken Liberian Musa Bility alleging that his suspension and $500,000 fine only materialised after he likewise refused to submit to Fifa's desires.
The former Caf executive committee member claims some of Infantino's key men said he could escape a ban - having already been found guilty of misappropriating Fifa funds, receiving benefits and conflicts of interest - if he backed the Samoura deal.
"Those people said that if I disagree with Gianni, they were going to punish me - and I said, 'I would rather go down than agree with you people to come and take over African football'," Bility told the BBC's World Football programme.
"This blackmail by Fifa - it has to stop."
To back up his claim, Bility asks why - despite being found guilty in February 2019 - he was not banned until July, pointing out that his sanction came a week after publicly opposing what he called Fifa's "hostile takeover" of Caf and a day after filing a case against Samoura's appointment at Cas.
"You take a guy who stands up against you and you suspend him the next day - saying he has committed a crime six years earlier. Does that make sense to you? So it was okay as long as I agreed with him…?"
Asked to respond to Bility's claims about both blackmail and a possible deal, Fifa declined to directly address them, simply referring to the ethics committee's judgement and decision to ban him.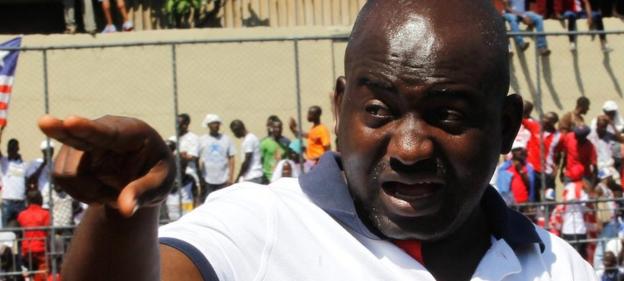 Musa Bility is now a politician in Liberia
There appears to be inconsistency in Fifa's attitude towards enforcement and application of the rules.
Last year, as Cas completely overturned an ethics committee ban on former Caf president Issa Hayatou, the Cameroonian rebuked Infantino as they bumped into each other that very day - declaring "You wanted me dead but I'm still alive".
Elsewhere, former Sierra Leone FA president Isha Johansen was allowed to stay in power for eight years without holding elections, despite Fifa rules stating these must take place every four years.
Fifa did not respond directly to a question about the extended reign of Johansen, who now sits on the Fifa council, the global body's board.
"The independent ethics committee is one of Fifa's judicial bodies," said Fifa spokesperson Swanson.
"It is composed of members that have knowledge, ability and specialist expertise and their decisions are published in line with the new, transparent, Fifa."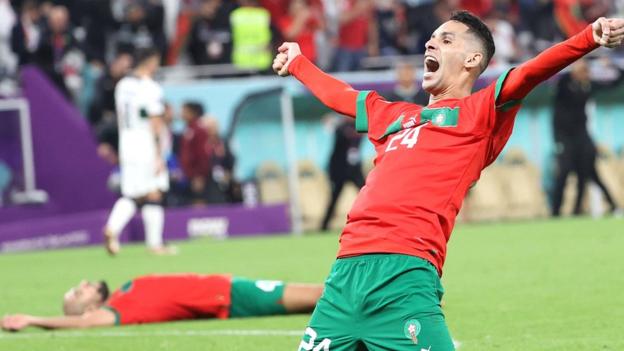 In Qatar last year, Morocco became the first African nation ever to reach the semi-finals of the World Cup, and the North African nation announced at the Fifa Congress in Rwanda that it is set to bid to host the 2030 tournament in conjunction with Spain and Portugal
'With Caf behind it, Fifa does what it wants'
As the world's largest confederation, with 54 members and thus 54 votes - just one less than Europe's Uefa, the next biggest confederation - African votes (out of a possible 211) are strategically important to the hopes of incumbent or aspiring Fifa presidents.
"It's for electoral reasons in relation to Uefa which they can't control," said Ahmad.
"Fifa's agenda is to have Africa in full with them because they know the majority of Africans are always going to follow Fifa instructions."
Ahmad says he only ran for the Caf presidency after being persuaded by Infantino himself, with Hayatou's decision to vote against the Swiss-Italian in the 2016 Fifa elections having created "irreconcilable differences" between the pair.
"Gianni wanted a candidate to eliminate Hayatou - everybody knew that," claimed Ahmad. "Gianni convinced me to do it."
Fifa declined to specifically comment about these claims but pointed out that the Caf president was elected by its Congress, comprising all Caf members.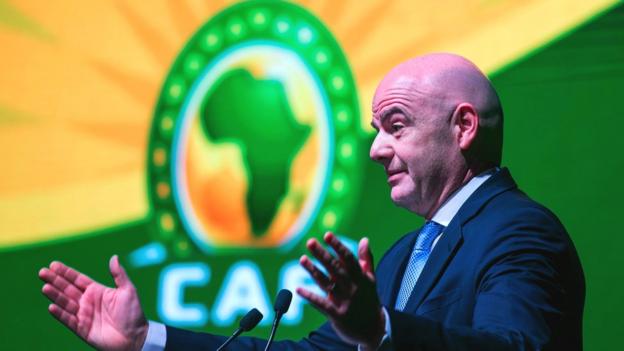 Gianni Infantino has been accused of controlling Africa by former Fifa vice-president Ahmad
By the next Caf election, Ahmad's stock had fallen.
Nonetheless, in October 2020 and despite the ongoing investigation against him, he announced his bid for a second Caf presidential term - a move swiftly followed by a leaked ethics committee report stating that Ahmad would be found guilty.
Given that the ethics committee is a closed, independent chamber, there are serious questions about both the leak's source and timing, coming as it did with Ahmad proclaiming the backing of 46 out of 54 FA presidents ahead of the March 2021 elections.
Ahmad is adamant that various leaks, which included a damning audit of Caf, to the media did not come from him.
"There were a lot of leaks but not from my side - never in my life have I done that," he claimed. "Who then had an interest in doing that? Only Fifa."
With a few days gone in the three-week window for candidates to express interest, only Ahmad had declared but after the news of his impending ban was leaked, four more came forward.
Fifa declined to comment on Ahmad's allegations that it leaked documents.
On the eve of Caf's 2021 elections, and despite its general principle outlawing "undue influence from third parties", two of Infantino's key lieutenants - deputy secretary general Matthias Grafstrom and then chief member associations officer Veron Mosengo-Omba - were spotted with the four candidates (with Ahmad now out of the race).
Just hours later, Fifa had overseen the "unity" arrangement whereby rivals Jacques Anouma (Ivory Coast), Augustine Senghor (Senegal) and Ahmed Yahya (Mauritania) agreed to a proposal "submitted to us by Fifa, Morocco and Egypt" whereby they stepped aside for Patrice Motsepe, then chairman of South Africa's Mamelodi Sundowns.
Like Ahmad, the billionaire - who stated in December his desire to be associated with football because it "will give me greater exposure to my customers" - has previously said he was "asked to take charge" of Caf but never by whom.
Two weeks after Motsepe's coronation, Mosengo-Omba - Infantino's old friend and former university colleague - was appointed Caf's secretary general, the organisation's most important role.
Asked if he believes Fifa wants to control Africa in order to influence votes in the presidential election, Ahmad replied "yes" - adding "with Caf behind it, Fifa does what it wants."
​​​​​​​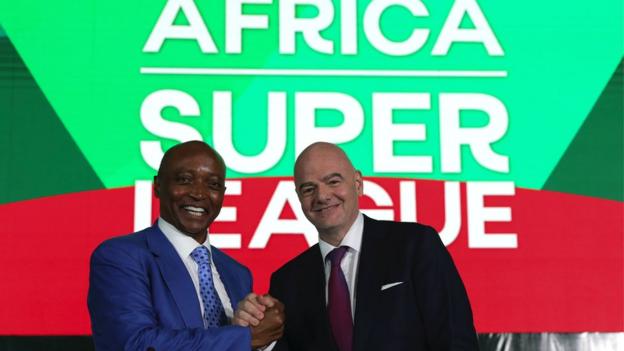 Caf president Patrice Motsepe and his Fifa counterpart Infantino are working together to create an African Super League
Shortly after Motsepe's election, Africa was being rallied to back Fifa's plan for a biennial World Cup, with Caf "unanimously" backing the idea despite the clear conflict with the Africa Cup of Nations which is also played every two years.
Asked last year whether Fifa was controlling Caf partly to achieve its own aims regarding a biennial World Cup, Infantino told BBC Sport Africa the bodies were simply "in consultation".
Motsepe received the same question.
"The future of African football will be taken exclusively by the African leadership, which is neither ignorant nor naive enough not to recognise that we need partnerships to succeed and grow - and Fifa is our most important partner," he told the BBC.
"I'm clear in my mind that Caf is going to work together with Fifa, together with Gianni."
As it does, a joint Fifa-Caf proposal to develop the African Super League, which could benefit Infantino's plans for an expanded Club World Cup, given the continent's teams would theoretically grow stronger, is ongoing.
On Thursday, the Fifa president will be acclaimed for a third term in office while standing on African soil, fittingly so given the leverage secured on the continent - and by extension the planet - in recent years.
"Infantino has the support of more than 200 associations globally for the uncontested, elective Fifa Congress in Kigali on 16 March," added Fifa spokesperson Swanson.
"He is humbled and honoured to be able to serve the football community for the next four years."
Source: BBC Africa