When coach Steve Cooper was putting together the foundations for Nottingham Forest to survive in the Premier League, it was perhaps fitting that the first player he signed for his mammoth building job was a former bricklayer.
And how Taiwo Awoniyi repaid him, as the Nigerian provided Forest's first win of the season - a 1-0 win over West Ham - and also their last, in the crucial 1-0 defeat of Arsenal that secured Premier League survival in May.
That came with one week of the season left, with Awoniyi also scoring in the final game to bookend Forest's season in terms of goals and enable him to reach double figures in the league.
It represented a glorious end to a campaign in which Forest had long toiled for Premier League survival, with the successful results only coming late on - much like Awoniyi's club career itself.
Nigeria striker Taiwo Awoniyi scored 10 Premier League goals last season for Nottingham Forest
For the 25-year-old - who had dreamed of playing in England's top-flight since childhood - had to wait until 2022 for his Premier League debut despite signing for Liverpool seven years earlier.
An inability to secure a work permit to play in the United Kingdom was the primary reason for this and although it finally came in May 2021, Liverpool sold Awoniyi just two months later.
In the previous six years, the Reds had loaned him out no less than seven times.
"Looking at how many loans I've been through, those are the years that shaped me and everything I've worked hard for over the past six years just came into existence," Awoniyi told BBC Sport Africa.
"It's not a journey that has been easy."
Socking it to them
As he grew up in Kwara State in Nigeria, Awoniyi would tell anyone that would listen that one day he would play in the Premier League.
"That was the only thing I kept telling people such as my secondary school-mates and my team-mates, even if people hardly believed what I said sometimes," he recalled.
"But that is just me. Once I believe in something, I go for it. And to become a professional footballer and play in the Premier League has been my greatest dream."
He credits an abundance of "patience, hard work and dedication" for the fact that he made it, explaining how he has often been the first in to training and the last out.
Starting out back in Nigeria, he would take odd jobs - such as working as a bricklayer or even simply fetching water for his neighbours for small change - in order to afford the travel costs to training or suitable kit.
He still fell short in certain areas - admitting to wearing "up to ten pairs of socks" to fit into an oversized pair of boots or regularly having to "walk miles to the training ground".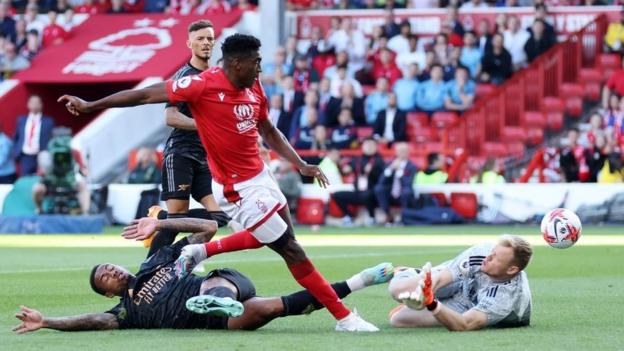 Awoniyi's goal against Arsenal secured Forest's Premier League survival and also handed the title to Manchester City
He is still in close contact with his first coach, Abdulrazaq Olojo, who would often give Awoniyi either money to travel to training or a lift on his motorbike - and he has also never forgotten being helped by Seyi Olofinjana.
The former Wolverhampton Wanderers and Nigeria midfielder invited Awoniyi to join his academy from where the forward - who scored four times as Nigeria won the Under-17 World Cup in 2013 and also became an African Under-20 champion two years later - would join Liverpool in 2015.
"Taiwo has always been one of those dedicated young athletes but what made - and still makes - him stand out is his belief in his ability," Olofinjana told BBC Sport Africa.
"For him, it was always going to be a matter of time - especially because of his religious nature."
Deeply religious, Awoniyi is also humble, respectful and mindful of his roots, and still regularly in contact with those he grew up with. He says they inspire him as much as he inspires them.
'You can't rubbish Arsenal in front of me'
After moving to Anfield, Awoniyi underwent loan spells with Dutch side NEC Nijmegen, Belgian outfits Royal Excel Mouscron (twice), KAA Gent and German sides FSV Frankfurt, Mainz and Union Berlin in order to attract interest from national selectors and gain a work permit.
In 2021, Awoniyi finally got the reward for his unwavering self-belief as he secured a UK work permit, his full Nigeria debut and a permanent move to Union Berlin in Germany's Bundesliga.
In his first full season playing for a European club, he was actually on the books of - since he never played once for Liverpool - Awoniyi scored 15 Bundesliga goals to entice Cooper, who made him Forest's then-record signing in June last year.
"There's been a lot of interest of Taiwo from other Premier League clubs and other clubs across Europe, so we're delighted he's chosen Nottingham Forest," Cooper said at the time.
"He's a player we really believe in and we look forward to him going on to fulfil his potential and become a top Premier League striker with Nottingham Forest."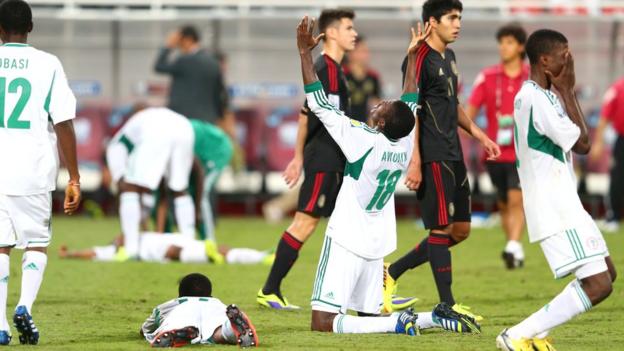 Awoniyi and his Nigerian team-mates celebrate winning the Under-17 World Cup in 2013
He may have taken his time to settle but it was worth the wait as Awoniyi scored all but two of the club's eight goals in May.
Two came in the crunch 4-3 win against Southampton, with another brace securing a point at Chelsea before Awoniyi scored the only goal against high-flying Arsenal to secure Forest's survival and spark exultant scenes at the City Ground.
"Arsenal was always my team and you couldn't rubbish Arsenal in front of me while I was growing up," he said.
"A lot of my friends (in Nigeria) called me that day and said 'Taiwo, you finally scored against your team'.
"Those goals will not come without the help of my team-mates, because it's a team effort, but it's a moment I'm very proud of. That goal was the most important for me, because that was the game that kept us in the league and that I will never forget in my life."
Building for the future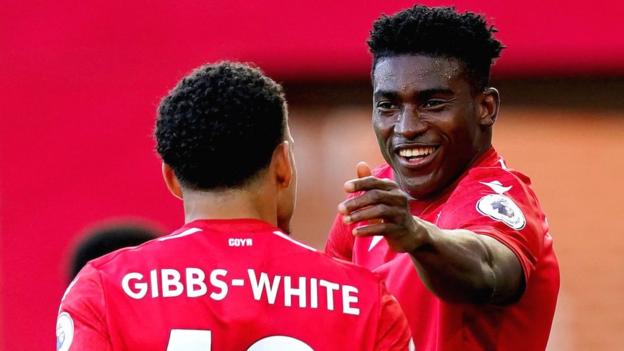 Awoniyi celebrates with team-mate Morgan Gibbs-White after one of his 10 Premier League goals last season
During the off-season, Awoniyi returned to Nigeria to fulfil a mission close to his heart - helping to develop facilities in the region that gave him the platform for his European adventure.
His gesture came as little surprise to Olofinjana, who still owns and coaches at Imperial FC in Kwara State.
"Taiwo has always been a kind-hearted being with great desire to help, given his upbringing and struggles," said the 43-year-old.
In June, Awoniyi returned to his hometown Ilorin to organise a competition - the aptly named 'Never Stop Dreaming Tournament'.
"This project has been a long-time dream for me," explained Awoniyi.
"I used to say to myself that if one day I'm capable of (helping), I would - and what made me start this project was (hoping) to inspire those boys and to tell them that if I can (make it), then they can as well.
As he prepares for a second season in a league he has spent decades dreaming of playing in, and six years barred from, few would begrudge Awoniyi further success as he looks to inspire the next generation.
"The most important thing is they should never stop believing in their dream."
Piece by piece, this former bricklayer built his own Premier League dream and it is now a reality.
Source: BBC