Growing up in almost every Ghanaian community, parents want their children to become the best in the most-respected fields of work. A doctor, nurse, pilot, president and sometimes religious leaders are once that Ghanaian parents always cherished and hence any other career was far from their thoughts.
For Ernest Agyiri, he was never going to escape that treatment, not even when his elder brother was already into the sport. His mum was concerned about his education so much that she never wanted him to take his eyes off them and for someone who also saw how prestigious those aforementioned careers were, he bought into his mother's idea.
Ernest grew up in Darkuman, a suburb of Accra. For anyone who is not familiar with the area, Darkuman has been a good foundation for some of Ghana's football stars.
Jonathan Mensah, Joseph Painstil, Emmanuel Boateng and Eric Ayiah are some notable names to have started their playing days in the neighbourhood. Ernest might have probably known this but the fact his mum was not going to allow him to play football led to him not even giving a gaze.
So, how did it all begin for the left-footed forward?
"I started when I was in school, playing football with my friends using oranges. One time I saw my brother [Thomas Agyiri], who is also good at football. He came back from school and took his football shoes and I didn't know where he was going. He didn't want me to follow him so I was just hiding myself from him [to follow]. When I followed him with my friends to watch him train, that is where I saw football because all my life I had played with oranges," he said in a conversation with Joy Sports' Lawrence Baidoo.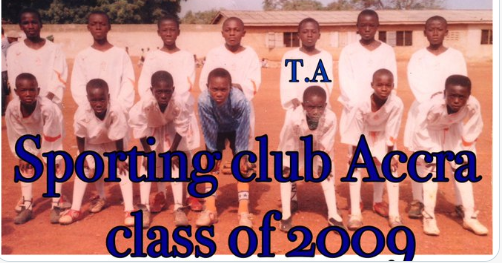 "I decided to have and feel of it and juggle it and the coach saw me and called me over, that was when my brother saw me and asked what I was doing there because he had warned me not to follow him. The coach asked if I was his brother and he responded but I didn't care [about his facial expression]. I was just happy I got a football to play. So after, the coach asked me to come with my brother anytime he was going to train. This was at Sporting Club Accra, which is based in Kwashieman and I was playing under Fiifi Parker Hanson."
Ernest was happy playing but then came the mother factor – why would you even want to play football when there are other prominent careers you can consider, son?
But he had it all covered and that was the opening of something big which saw him ending up one of Ghana's best football academies, which also didn't come easy at all.
"My mother wasn't happy so I had to tell her 'don't worry, I will go to school after that I will go to the training. I was at Sporting Club for a while and the coach knew the owner of Right to Dream. There was a game we went to play in Dawu and I saw Tom Vernon speaking to my coach that he liked the way I play so I should be invited to train with his club," he continued.
"My coach came to me and informed me Tom Vernon was going to organise a justify in Accra and he would love me to be part. The justify happened a month after we had played the game in Dawu. The trial happened at Darkuman. I was in school when my brother came to me and told me about the trial [because I was not aware it was taking place at that time] and that I had to leave now. I told him I couldn't because school was not over. I was scared but one of my friends was a prefect so I told him to give me a number and I left school.
"I went to Darkuman, played the game for Sporting Club Accra and scored. Tom Vernon said he liked me and would want me to be involved in the final justify your inclusion. When I reached Dawu for the final one, there were over hundreds of people also present from different regions. I was so confused and I had no family there as well that was where the real struggle was. After the trials and the selections were being done, they came to me and said, 'We wanted to select you are too little so you have to go home and wait for my time because there will be another one which will be okay for me."
Ernest, according to his words said, he 'started crying' because he was eager to play football but little did he know that that was not the end of his dream to play football.
Back to Darkuman and a fresh start for the 'little boy' whose heart had been broken from something he didn't fancy. He was back with Sporting and back with Fiifi but moments later, his destiny helper was there again – Tom Vernon.
Indeed, there was a second justify and this time around he was picked, spearheading yet another range of talents that Right to Dream had watched from their routine trials.
"After being selected, I was given the opportunity to train with both teams [the first justify group and the second one]. While on holiday from the academy, I went on and told my mum about everything but she insisted she wouldn't let me go because I was too young to be there but my brother had been there before me so he explained it better for her. She agreed and I stopped where I was schooling and joined the academy where there was education readily available for all who were there."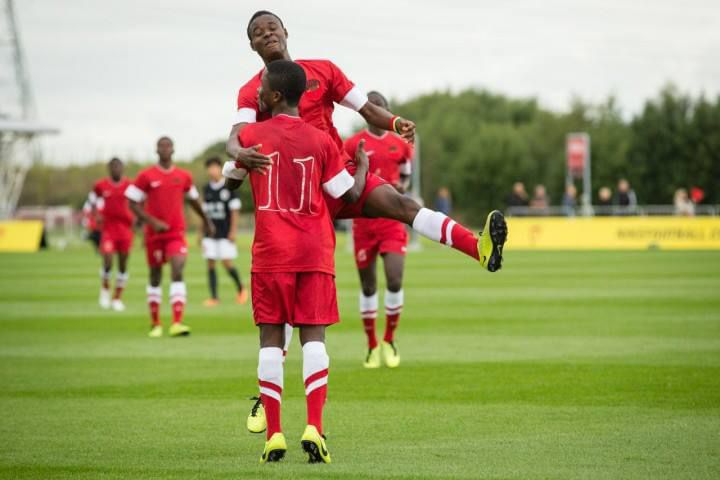 If you know the ties of Right to Dream, you are probably aware it had more clubs to it than just Nordsjaelland. Manchester City was among the clubs the owner had a relationship with and it was there that looked to be the future of the Darkuman boy.
Ernest, together with others at the academy, had the opportunity to train with the Man City academy, which had come down to Ghana on one of their visits as part of their connection with Right to Dream.
Once again, selections had to be made. Ernest had come good but unfortunately, he missed the first names that were given an opportunity to go and train with the Premier League's academy. Perhaps, it had something to do with him being a second born, who knows…
Ernest was headed back to the dormitory when he was quizzed by a scout from City: "You are very good. Why weren't selected? His reply was, "I had no idea."
The scout got the needed explanation from Tom Vernon who then was prioritizing the development of Ernest at the academy.
Despite missing out, Ernest was still in touch with the first group that jetted off because he had a good relationship with them.
Months later, City were back hunting and Ernest was their priority this time because they had already seen him on their previous visit. He was on the plane and he was also heading to Manchester to ensure he made his dream a reality.
Because he had not been officially signed, Ernest returned to Ghana after training with City's academy for a few months and was called up for his national team assignment with the Black Starlets under Paa Kwesi Fabin.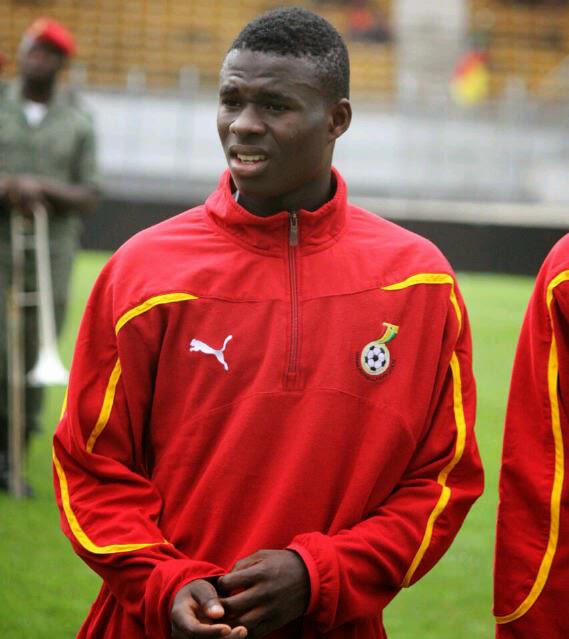 "I was back at Right to Dream and Ghana U-17 reached out to me through Paa Kwesi. Tom Vernon knew everything [that Manchester City wanted to sign me for their academy] but he didn't want to tell me. We went to Cameroon to play a qualification game which I scored and we won. We played the return game in Accra and qualified for the U-17 Africa Cup of Nations. We couldn't participate because even though we had qualified, there was a protest against some of our players and we were banned so we couldn't travel for the tournament.
"After [the disappointment], Tom came to me and said he was satisfied with my development and told me Manchester City offered him a contract so he was going to accept it and facilitate my move to Manchester. After he had told me, I grabbed my phone and called my mum, my dad and my brother because I was so happy."
But at such a young age, Ernest was not cut to stay in England and was advised by the club to explore options around the world and have some training sessions with City's partner clubs as well as other low-profile clubs to continue his development.
First was in the Major League Soccer in America, where Ernest had the opportunity to train with New York City Football Club. According to him, there were sessions with Andrea Pirlo and Frank Lampard, who had then left Chelsea.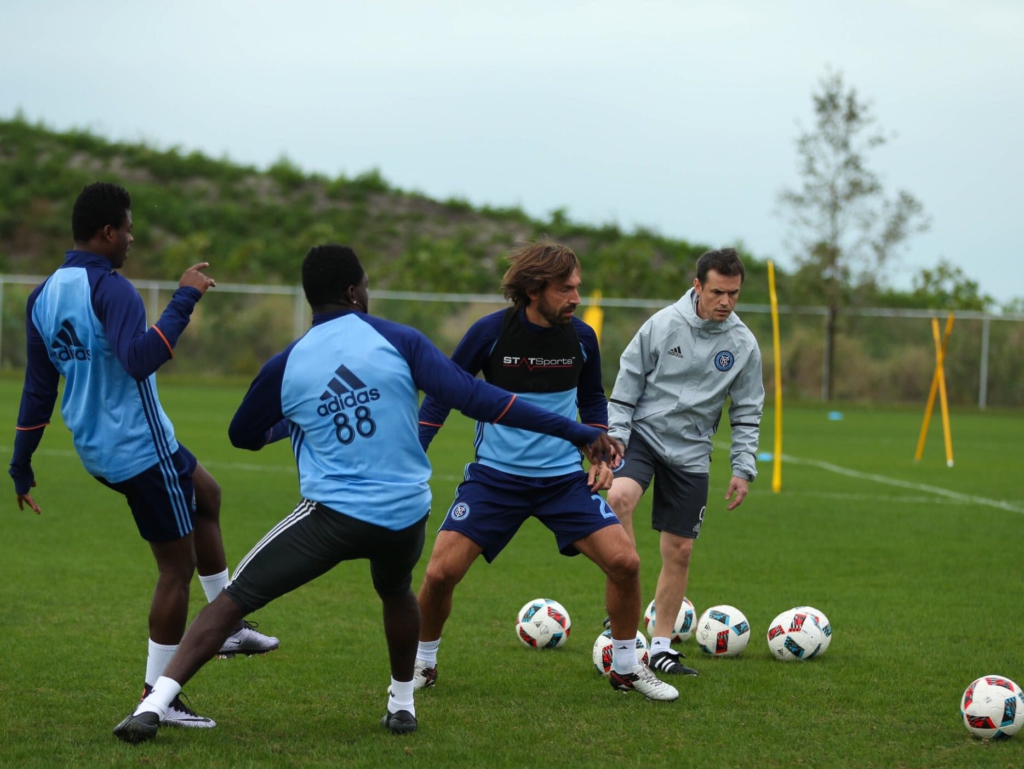 The Ghana international reveals the coach of New York City at the time, Patrick Vieira, expressed interest in keeping him at the club for a longer time.
"He told me he wanted to sign me but I was young and I didn't have any experience so he also suggested I go back to City to give me the needed foundation and a good league [that would suit me]," he added.
"I was really happy with the talk he gave me and the time I had with him. From there, I went to Nordsjaelland before returning to England where I told Manchester City what I wanted [to go on loan and enjoy game time."
Having said that, Ernest enjoyed loan spells at Norwegian side Valerenga IF before playing for AFC Tubize and Enosis Neon Paralimniou.
But then while playing in Cyprus, the unexpected happened. Covid-19 struck and football looked to be dying. Lonely on a foreigner's land, Ernest had to be recalled to Manchester City because he had not played for a while due to the virus. He was told 'things are difficult and the club is releasing players'.
After getting a release letter, it was up to him to find a new club and for six months while he had offers on his table, he was unable to travel due to restrictions as a way of dealing with the virus, a moment he describes as being difficult.
When he thought about giving up, help came through his senior brother who knew someone in Estonia, a place he now calls home.
"I flew to Estonia, started training with the team [without a contract] and the coach told me wanted to sign me. I signed a two-year contract with Levadia Tallinn and started from there," he narrated.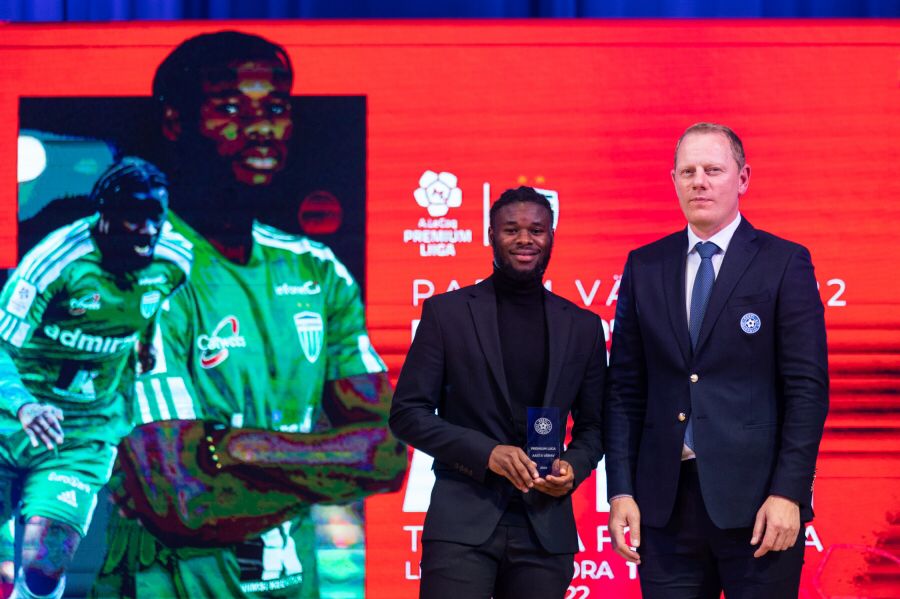 "In my first season, I scored six goals in 21 games and we won the league and the cup. It was a very good season for me [obviously because of what I had gone through in the past]. The second year was good as well but I picked up a knock. I was out for a month, came back and started playing again but unfortunately, we couldn't win anything."
However, in the current season (2023), Ernest Agyiri has been brilliant for Levadia so far being involved in 13 goals in 12 appearances.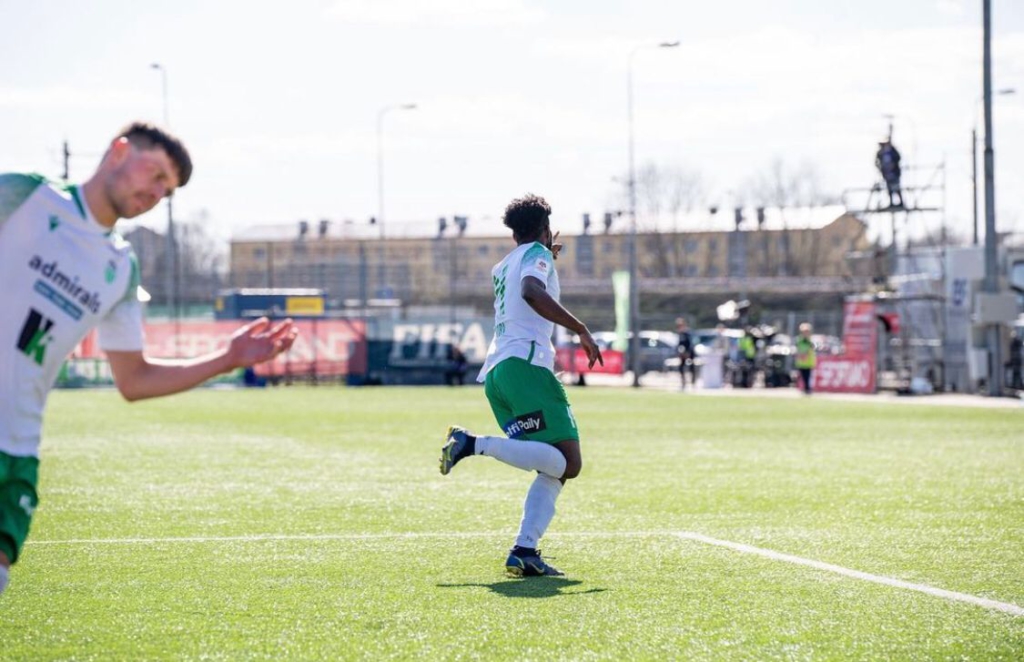 Quizzed on what has led him to get more goal involvement, the 25-year-old said: "In previous seasons, I was playing far away from the goal but this season I am always close to the box and doing what the coach is asking me to do.
"I am having more freedom on the pitch this season than in previous seasons, which is helping me score more goals and get assists."
It's quite surprising that a player, who was key during his playing days for the U-17 side has not been on any national team assignment since the failed attempt to play at the AFCON. However, just like every Ghanaian footballer, Ernest still dreams about playing for Ghana and will grab every opportunity with open arms.
"Wearing the national team jersey and singing the national team is a good feeling. When I was at the U-17, I was very happy playing for the national team," he noted.
"If I get this chance again and I get the call-up, I think I am taking the chance to go back and play for the national team. I am ready for any callup. I really want to play for the Black Stars one day."
For now, Ernest's national team chances are limited as he is only restricted to the Black Stars or the Olympics team should they qualify for Paris. Whichever way that comes, Ernest is focused on his current assignment and is looking to climb up the ladder again with clubs knocking on the doors of his club and his agent.
Source: Lawrence Degraft Baidoo