As Napoli supporters revel in a first Italian title triumph in 33 years, it is hard to argue that any player has contributed more to capturing that elusive crown than Nigerian striker Victor Osimhen.
Back in 1990, Gli Azzurri's top scorer was a certain Diego Maradona who managed 16 goals in 28 Serie A appearances, putting him third on the list for the league that season.
Osimhen, who plays his football in a stadium now named after Maradona, has easily eclipsed that, notching 22 goals in 27 games, including the vital strike that clinched the title in a 1-1 draw with Udinese.
He currently leads the Serie A scoring chart, three ahead of his nearest rival, Lautaro Martinez of Inter Milan.
He also contributed five Champions League goals, before Napoli were knocked out in the quarter-finals by AC Milan.
'Goals win games' is the well-worn phrase in football - and there is no doubt Osimhen's goals have caught the attention. Having joined Napoli in July 2020 for a fee of around €81m, a record for an African player, daily transfer rumours now link him with all of Europe's biggest clubs for even bigger fees.
But is the 24-year-old really worth £100m?
Osimhen the leader
In a city overlooked by a volcano, Maradona's fiery temperament and outrageous virtuosity were a match made in heaven for the worshipful Neapolitan faithful who flocked to see one of football's great artists lead their club's renaissance in the 1980s.
He wore the captain's armband when lifting the team's second Scudetto in 1990 and is so revered in Naples that his number 10 shirt was permanently retired in 2000.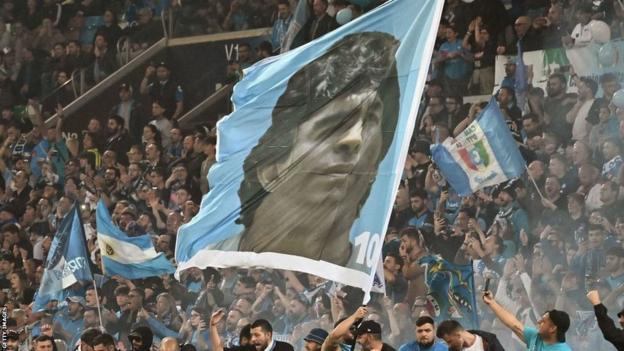 Diego Maradona, who died in November 2020, is still revered by Napoli fans after helping the club win its two previous Italian titles in 1987 and 1990
Exhibiting deadly accuracy, Osimhen is more of an ice-in-the-veins character. But, just like Maradona, he has taken on the burden of being the team's figurehead.
"Osimhen has really grown to be this leader that they need on the pitch," Italian football journalist Mina Razouki told BBC Radio 5 live.
"He doesn't give up. His performances have been ridiculous. Right now, the team are dependent on him.
"On a technical level, he's always been brilliant. And we're starting to see the consistency that he provides right now. Certainly, he's got to be one of the top five strikers in the world.''
If were proof was needed of Osimhen's consistency this season, in February he bagged his nineteenth league goal in a 2-0 win at Empoli, making him the second-youngest player (24 years, 58 days) after Cagliari's Roberto Muzzi (23 years, 165 days) to score in eight consecutive games.
He also scored his one-hundredth career goal, reaching the landmark faster than either Lionel Messi or Cristiano Ronaldo - a fact that more than impressed Jose Peseiro, his international coach with Nigeria.
"Victor is a player who has an extraordinary goalscoring instinct," the Portuguese told BBC Sport Africa.
"He is an intelligent, fast, aggressive player with an extraordinary feeling for being in the right spot. He will score many more goals and will make history even more times."
Despite his incredible stats, Razouki says the Lagos-born star stays true to his humble origins in a poor part of the city.
"Every time we do an interview with him, he highlights how grateful he is that he is a footballer. He says just the opportunity to be able to live out his dream is all he needs.
"He decided to forego any luxury apartment in Napoli and lives right by the training centre, just so he could go and play football all the time.''
It might sound like Osimhen has had the perfect season, but that is not actually the case. Disrupted by several injuries, he has missed big games such as the Champions League quarter-final first leg against AC Milan.
It is not the first time injury has affected him, something that could put off potential suitors. Indeed, he still wears a protective face mask in every game after breaking an eye socket in November 2021, an injury that saw him miss last year's Africa Cup of Nations.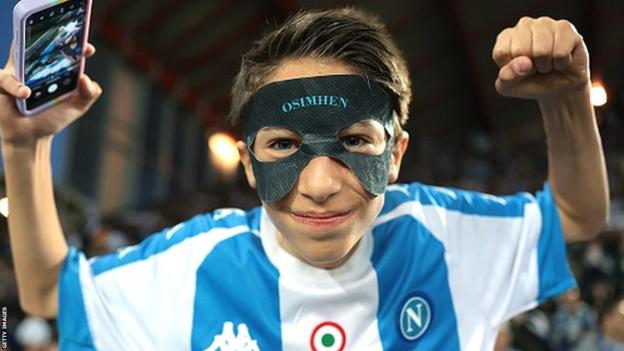 Napoli fans have taken to wearing face masks in honour of Osimhen
The man behind the mask
Osimhen's rise up the ranks of European football has not been meteoric.
Having starred for Nigeria at the Under-17 World Cup in 2015, where he scored 10 goals to help the Super Eagles win a fifth title, the 17-year-old left Lagos-based Ultimate Strikers Academy for German side Wolfsburg, revealing to the BBC at the time that he had turned down an offer from Arsenal.
The move was not greeted with huge fanfare in Germany - and his time in the Bundesliga also failed to hit the right notes as he went 16 games without finding the back of the net.
"They didn't have patience to let the boy develop," said former Wolfsburg striker Jonathan Akpoborie, who saw Osimhen arrive as a raw teenager.
"He was a prodigy then," the Nigerian told BBC Sport Africa.
"He has actually come of age and is doing really, really well. But we cannot start jumping to conclusions because he has scored 100 goals.
"Everybody knows who Victor Osimhen is now and, trust me, everybody is prepared to play against him. I hope he is really prepared for the journey in front of him."
A loan move to Belgian side Charleroi saw the young Osimhen's fortunes improve dramatically.
He netted 20 goals and was named the team's player of the year. Unsurprisingly, Charleroi activated a clause to make the deal permanent in May 2019 for only €3.5m, a steal considering the Belgians then sold on their new asset to French side Lille for €12.5m just two months later.
"He was very, very shy, very humble. He was not talking too much,'' said French defender Dorian Dervite who played alongside Osimhen at Charleroi.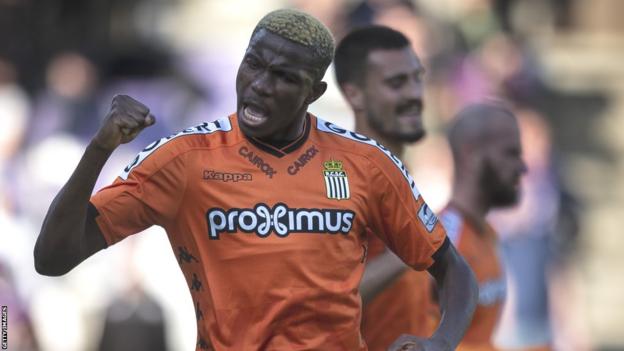 Osimhen's successful spell at Belgian side Charleroi helped kickstart his career in Europe
"He was 18, 19 - very young. But he concentrated on achieving his dream to become one of the best strikers in world football.
"You could tell he was very dedicated to it. Victor was focused, kept his head down, working very hard. He has improved a lot and where he is now, he deserves it."
18 goals in a stellar debut season with Lille saw Napoli come knocking.
"In football, it is difficult getting to the top and it is more difficult staying at the top," mused Akpoborie, thinking about Osimhen's move to Italy.
"That is why you have to put in the hard work. Everybody is expecting you to score goals in all the games you play. That extra step, extra sprint, you must have it."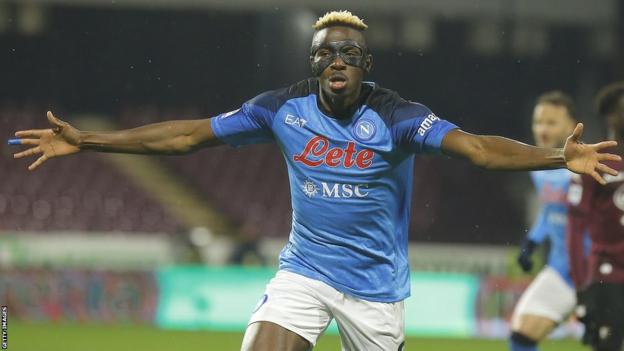 Osimhen has scored 27 goals in 34 games for club and country this season, catching the eye of Europe's richest and most powerful teams
Premier League the 'ultimate aim'?
Earlier this season, Osimhen confirmed that playing in the Premier League is his "dream".
Jay Jay Okocha, who spent five seasons in the English top flight with Bolton Wanderers and Hull City, agrees this should be his compatriot's ultimate ambition.
"It's a league that improves players, you just have to find the right club that suits your game," the Super Eagles legend told BBC Sport Africa.
"A team like Man City, but they've got (Erling) Haaland now. I think Man United as well might be ideal for him now because they've been struggling without a quality striker in recent years. Arsenal as well."
When it comes to comparisons with big names like Haaland, Dervite does not believe them wide of the mark.
"The statistics don't lie. For me, Osimhen is in the same bracket with (Kylian) Mbappe, Haaland and Harry Kane. For me, he is a bit underrated."
How much is Osimhen worth?
Manchester United, Chelsea, Paris St Germain, Bayern Munich, Atletico Madrid…the list of clubs linked with a move for Osimhen is representative of his success.
So what is the value of potentially the hottest property in world football? Okocha is in little doubt.
"He is worth over a £100m at the moment.
"Strikers like him are very few in the market. If you think of how much players that have made lesser impacts are going for, a (Jack) Grealish can go for £100m. I think he deserves more."
Akpoborie is of the same view, although uncertain when it comes to the likelihood of a move this summer.
"If he wants to go forward becoming a world best striker, he has to leave Italy for England or Spain" said the 54-year-old.
"Napoli is not really a club that will be willing to sell. (They) usually make the prices of their players very high. Osimhen will not be sold for less than €100m."
Dervite also believes the figure ultimately rest on several factors.
"If you think Haaland, Mbappe are worth £150m, £200m, I think Osimhen today is worth £100m.
"But this depends on the market, on if the club really want him."
For Nigeria, of course, Osimhen's goals comes for free.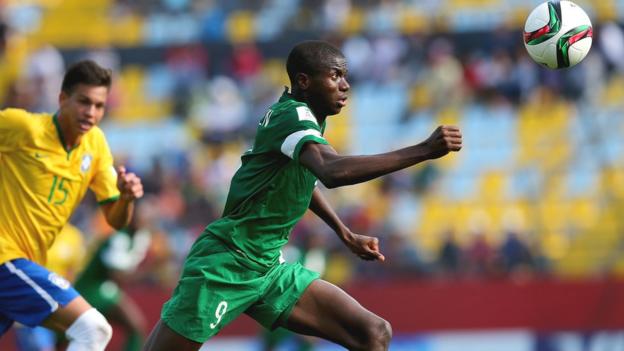 Osimhen shot to fame at the 2015 Under-17 World Cup in Chile where he scored 10 goals to help Nigeria lift the trophy
"It has taken a very long time for somebody to emerge from the shadows of the JJ Okocha's and Nwankwo Kanu's of our own time," said Akpoborie who won 13 caps for his country.
"We want to see a Nigerian always at the top of their game in Europe."
Diego Maradona was already a World Cup winner when he lifted Napoli's last title 33 years ago, having led his country to glory in Mexico in 1986.
Having emulated the Argentinian wizard's achievements in Italy, Peseiro is hoping Osimhen will likewise produce some magic on the international stage.
"We all know the great importance of Victor in the Super Eagles.
"With him we can aspire to win the next Africa Cup of Nations and be present in the next World Cup."
Okocha agrees that Africa's hottest sharpshooter should be shooting for the stars.
"He's in the form of his life and we are all happy that he's doing so well.
"I think what he can achieve is limitless."
Source: BBC Africa